United States 2007 Daylight Saving Time Changes
Under the Energy Policy Act of 2005 starting in 2007 daylight saving time in the United States will start three weeks earlier than in previous years (2:00 AM on the second Sunday in March) and will end one week later than in previous years (2:00 AM on the first Sunday in November).

The Time Zones for PCs® database was updated for the 2007 daylight saving time changes for the United States, Canada, and all other countries. This database is continually kept up to date, and all updates are automatically sent to your PC.

However some people may experience problems with their installations of Windows, as the Windows operating system itself may contain out of date time zone data.

As a matter of good practice we recommend that all users set the clocks on their PCs to Coordinated Universal Time (UTC). This avoids any time time zone errors caused by Microsoft, and it allows you to travel without continually having reset the time zone. You can set your PC to UTC as follows:

Windows has a taskbar at the bottom of the screen. On the right of the taskbar is your PC's clock:

To set the time and time zone, double-click on the time. This will bring up the Date/Time Properties dialog box as shown here: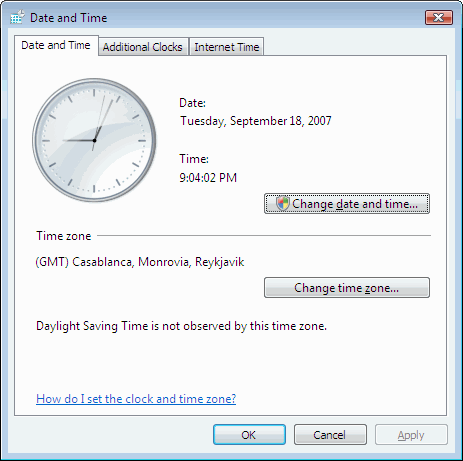 Click on the Time Zone tab to set the time zone.
To set your PC's clock to UTC, select UTC if it is available, otherwise select the (GMT) Casablanca, Monrovia time zone. Microsoft calls this Greenwich Standard Time.
Next click on the Date & Time tab.
Obtain the current Universal Time from the TimeZonesForPCs.com website. Pay particular attention to the date, as this may be a day ahead or behind your local time.
Click OK to save the changes.
If you prefer to have your PC's clock set to local time rather than UTC, and you live in the United States or Canada, you must read the following sections.
Windows XP Update for 2007 DST Changes
Microsoft has released an update for Windows XP Service Pack 2.

If your computer is automatically updated via the Windows Update service you do not need to do anything. The update will be automatically downloaded and installed from Microsoft.

If you have turned off the Windows Update service on your computer you will have to install the update manually.

Click on one of the download links below to download and run the Windows XP Update.
Update for Windows XP (KB928388)


WindowsXP-KB928388-x86-ENU.exe
503 KB

download via FTP:
download via HTTP:
(if FTP service is unavailable to you)
When prompted click Run to run the update, or click Save to download it to your hard drive and then run WindowsXP-KB928388-x86-ENU.exe as a separate step.
2007 DST Change Updates for Older Versions of Windows
Microsoft no longer supports Windows 95, 98, 98SE, NT 4.0, Me or 2000. Therefore they will not be releasing updates for these versions of Windows.

Instructions from Microsoft for using the tzedit.exe utility can be found here:

http://support.microsoft.com/?kbid=914387